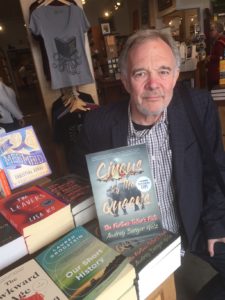 Gallery Bookshop, Mendocino was a bigger success than I dreamed possible. All of the staff are friendly and helpful, and I was terribly impressed by their sense of community. Rob, who is in charge of their events, is a special wonderful guy setting a happy tone wearing a tuxedo top hat on his head. It was easy to see why people support and love this bookstore. They seem to take a personal interest in every customer who walks through their door and have the patience to make certain these same people are satisfied with their book shopping experience when they walk back out the door. Hooray great independent book store that makes it easy to see the added care and interest you get when shopping there.
Circus of The Queens: The Fortune-Teller's Fate greeted us and helped to welcome everyone who entered the store. Placed on their first display table, it was surrounded by Pulitzer Prize winning novels and other great books. I had to pinch myself, seeing it in such company!
Their staff shared with us how the book has been extremely popular and that they had been selling quite a few copies. They live streamed my reading and talk to 30 additional people. This was a first for me and I believe from the response of those in attendance and how many of them walked away with books in their hands, that I did well!
We loved being there and I can't stop talking about what a happy experience it was for me. Thank you, Mendocino and Gallery Bookshop for making us feel so at home and for sharing your wonderful spirit so I could take a bit of it home with me. I hope you enjoyed our visit and I look forward to seeing you again when The Shadow of Lillya is complete!