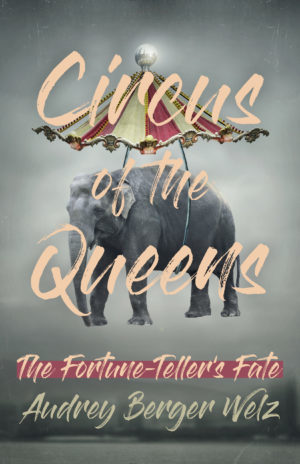 From Imperial Russia to Savannah, Georgia and beyond, a circus family, a once aspiring ballerina, and a scorned lover, set the stage and then draw the curtain to this saga of identity, fate, and the steps we take to find who we are in this world.
Donatalia dances at the Winter Palace just as the Russian Revolution of 1905 tears apart the life she thought she would have. Forced to leave her dreams behind, she must move for her safety to the new world and begin a new life. Having lost family, fortune and country, she unexpectedly finds herself reuniting with Vladimir, heir to the most celebrated Russian circus, dazzling high-wire walker, and the object of a long-forgotten crush she harbored as a child.
Both struggling to let go of the past, they reconnect and share an intimacy only they can understand. Donatalia follows Vladimir and becomes the circus fortune-teller and it is through her eyes this story is told.
A poetic adventure of revenge, love, and loss, Circus of the Queens: The Fortune-Teller's Fate is a stunning debut from an exciting new talent and begs the question how does one define themselves when their whole world is lost.
Available at independent bookstores as well as Amazon and Kindle.
EXCERPT
Macon, Georgia, 1917
I could hear our tigers, Midnight and Satin, being loaded onto the train as I pulled my old purple shawl tighter around my shoulders and stretched my hands out toward the fire. Lately, Vladimir and I had been staying up into the small hours most nights. We'd take folding chairs over to the fire outside our carriages and watch the glow of the embers, tell stories, and play cards. We'd say it was the creaking of the big top in the wind that kept us awake, but it wasn't—it was our need to talk about our childhoods, our Russia, and remind ourselves that the memories we shared had once been our reality.
"Your mother was a great dancer, Donatella," Vladimir said that night when we'd turned over the last card and fallen silent. But then he frowned, as if he hadn't said enough.
"'Every move you make tells a story,' my mother would say. Then she would glide like a seagull through our front door to show me. All I ever wanted was to be her." I stretched my arms and sighed.
The circus had been in Macon the last few days and soon we'd be pulling out. Exhausted, I start to drift, as if I were floating on a raft through the evening sky. I take a deep breath and close my eyes. Memories surround me like fireflies and stars on a hot, moonless night. And through the sea of flickering lights I find myself seated on an overstuffed velvet chair in the parlor of my family's home in St. Petersburg, on an avenue lined with elegant houses, just like ours.
If I listen carefully, I can hear the clop, clop of steel on stone and the sound of squeaking wheels of late-night carriages going up and down our street. I can see the heavy gold-embroidered crimson curtain rise at the Mariinsky theater, and feel the weight of my mother's soft hand, squeezing mine. It's spring and I'm wearing a silky dress dyed to match the rich violet-purple tulips blooming in our garden.
The orchestra is playing like it's dizzy, until each instrument finds its place and settles in. The theater is still, but not for long. The conductor walks out to a roar of applause, nods, and signals the musicians with a wave of his baton. Perfect notes surround me—Tchaikovsky's The Queen of Spades. What an odd coincidence, I think now.
"Take off my shoes; they're too big for you," my mother teased when we came home that night. The shoes she wore were sparkly, and I couldn't resist trying them on. How I loved the way she tickled my belly until I giggled so hard I threw them on the floor. "You could trip and fall," she said, laughing, "and then what kind of dancer would you be?"
She took out the hammered silver box that held her prized abalone hairbrush. Its swirls of iridescent blue brought out the color of my eyes, she said. Unwrapping it lovingly from its silk coverlet, she stroked my long, dark, wavy hair, one, two, three, a hundred times. As a child, that's how I learned to count.
***
My name is Donatella Petrovskaya. I wasn't always with the circus. Born in St. Petersburg, I was christened Donatalia, and I attended the Imperial Theatrical School. I even studied under the great Cecchetti and performed at the Winter Palace while Grand Duke Sergei Alexandrovich played the flute. But that was before he went into hiding.
Available at independent bookstores as well as Amazon and Kindle.