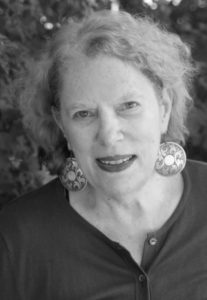 Audrey Berger Welz dragged her guitar everywhere. She apprenticed as a silversmith, earned a degree in Aesthetic Studies from University of California Santa Cruz, and worked in film in San Francisco.
Audrey moved to New York City to pursue music where she became a fixture in the commercial music business. An avid photographer, she sings nightly to her husband, and immerses herself in writing every day.
Raised in Akron, Ohio by a salesman father who serenaded the family on violin and brought home stray animals, and a mother who taught kindergarten, Audrey lives in Manhattan with her husband and two very naughty cats. Circus of the Queens: The Fortune-Teller's Fate is her debut novel. She is currently writing a sequel, Circus of the Queens: The Shadow of Lillya.
INTERESTING FACTS ABOUT THE AUTHOR
Avid photographer of Cracks In Sidewalks
Loves karaoke!
Post produced Neil Young documentary, Muddy Track, with Neil Young
Bar Patron #1 in Miss Congeniality Two
Sold industrial hardware to farmers in Monterey Bay
Has particular interest in Central and South American authors
Favorite place on the planet: Big Sur
Co-founder of Sing For Your Health! workshops
Lived on Krishnamurti's old estate in Ojai, CA
Survived ruptured aneurysm and medically induced coma
Audrey's cousin, Mac Raboy, created Captain Marvel, Jr. and drew Flash Gordon