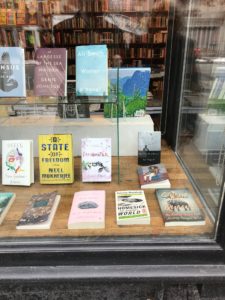 There is a quaint, but exclusive, little bookstore in our neighborhood in Chelsea called 192 Books. My husband and I pass by their store five to ten times a week, and for years, each time that we do, I tell my husband, "One day my novel is going be in their window."
Two weeks ago, we were passing by just as I was about to recite my mantra when I noticed a book from afar with similar colors as my novel's cover, so I inched in closer and yelled for my husband to come quick. "It's my book," I cried out.
There in the front window of 192 Books with a Pulitzer Prize winning novel at its crown, and flanked by the novel that won the Man Booker prize, was my debut novel, Circus of the Queens: The Fortune-Teller's Fate. Now I go to the bookstore and stare in the window, so proud that my dream came true.