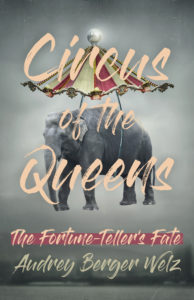 Welcome to my world and that of the Circus of the Queens. It's a beautiful world, one where I hope you will feel welcomed and at home. I have been on an interesting journey most of my life. I am an artist and tend to like people and things that are different.
Several years back my muse and protagonist Donatalia began telling me a story, her story. It was as if she whispered it in my ear with the intention that I would write it down and share it with the world.
I didn't start out thinking it would become a novel, I had never written one before. It just happened over time, and the closer it came within my reach the more I found that I wanted it and she wanted it and neither of us could stop until I wrote, The End.
Donatalia led me into a new world, one of ballet, imperial Russia, the deep South, and pieces of history I knew nothing about. I learned about Anna Pavlova, and what a roisinback horse was, I came to understand the life of a Mahout and a lot about elephants and circus. I discovered that a Calliope was a set of steam whistles activated by a keyboard and a Circus parade used to be almost as exciting as the circus itself. And with this new found knowledge I listened to Donatalia every day and if I didn't understand what she said, I looked it up, and I wrote and I wrote until I wrote, The End.
If you have enjoyed these pages, please vocalize it however you do and help me spread the word, Circus of the Queens: The Fortune-Teller's Fate is waiting to take you on an adventure!